There Never Was a Good War or a Bad Peace
I, like many of you, have been watching the senseless war unfold in Ukraine and have been surprised at the emotions rising within me.  They range from anger at the violence and death of innocent Ukrainians, to sadness as I witness the tearful good-byes as fathers hold their children, and wives and mothers cling to their loved ones, knowing it could be for the last time.  I cannot begin to imagine their pain.  We see them flashing across our screens, the faces, the tears, the hopelessness and fear in their eyes. What if those were my sons, my daughter, my loved ones?  What must it feel like to leave everything you have ever known, your home, your community, your country?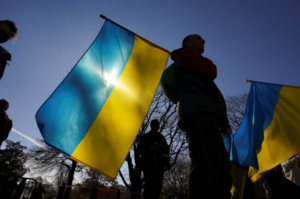 I spent last weekend with my family, and I can tell you I held them a little closer and hugs and kisses were given generously. We talked a lot about this war, God, family, and wondered aloud how life can go on as usual for us while atrocities are happening to so many others.
This week I reached out to two former foreign exchange students who stayed in my home, currently living in the bordering country of Slovakia, letting them know that I was thinking of them and their families.  The comment from one was, "Please pray for Ukraine and the rest of Europe, these are crazy times, let's hope this will not spread." The other stated that she is assisting women and children, some of whom were forced to wait 12 hours in freezing temperatures to cross the boarder to safety.  She stated, "We all pray for peace, I cannot work, I am just watching the news.  I want to pack just in case, but do not really have the strength." She went on to say that she and her family are helping as volunteers, and she is preparing to welcome refugees into her flat.  I also have friends and colleagues with family and loved ones in Ukraine, and my heart breaks for them as they daily await news.
I feel intense admiration for the Ukrainian people.  So many have remained and are doing their part to protect and serve, both young and old, male and female.  It has been inspiring to see the President of Ukraine choosing to stay and stand with his people and defend his country rather than seeking a safe escape.  How heartening to see the manifestation of solidarity as the rest of the freedom-loving world gather in the tens of thousands to rally and support.  Many countries are also showing their support by sending military and humanitarian aid. Social media is filled with prayers and good wishes, as well as graphics featuring the Ukrainian flag, and sunflowers, their national flower.  Even Elon Musk has contributed to the effort by providing satellites to keep Ukraine online in the event that their internet infrastructure would become damaged by Russia's attacks.
No one knows how or when this war will end, or what is on the horizon for any of us, but I pray it is not more war.  My hope is for peace.  The day the news broke that the invasion had begun, my mind went to the infamous photograph that was taken by the late Pulitzer Prize-winning photographer, Horst Fass, of a very young soldier, with piercing green eyes, during the Vietnam War.  Handwritten on his helmet were the words, "War is Hell."  To me, that is a perfect summation of the actuality of war.  I invite you to visit the veteran's mural located beneath the bridge in Victory Park, Lewistown.  There you will see a depiction of that photo masterfully captured by the late muralist Dwight Kirkland.
To quote two famous historical figures; "There never was a good war or a bad peace."  Benjamin Franklin and "My first wish is to see this plague of mankind, war, banished from the earth." George Washington.
To the people of Ukraine, we see you, we hear you, and we support you!
Rhonda S. Kelley, Executive Director, Juniata River Valley Chamber of Commerce