As a Phoenix Rising from the Ashes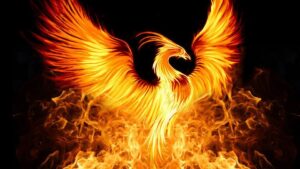 In ancient and medieval literature, the Phoenix is depicted as a vibrant and majestic bird that is destroyed by fire, but through determination and perseverance rises from the ashes to become even more powerful and effective than before.  The Phoenix is the perfect personification of tenacity, persistence, and rebirth.
As I contemplated the amazing things happening right now in our community, this is the symbol that immediately came to mind.  Our Juniata River Valley, as well as the rest of the world, has been through the fire these last two years.  We have experienced great loss, both humanly and economically.  At times it was difficult to see the way forward, but just like the Phoenix, our community has risen from an impossible situation to come back even stronger!  We are emerging from our challenges and difficult times wiser and more determined.
Just look around and you will see expansions, improvements, and growth.  As an example, Geisinger Lewistown has recently announced the news of their continued investment in our community with the expansion of their school of nursing in downtown Lewistown.  This anchor building, previously the Bon Ton, will soon experience an exciting renovation, increasing interest, and adding revenue in our downtown, all while fulfilling our future nursing needs. Just like the Phoenix, this building will experience a renaissance and once again become a source of pride in our downtown. Excitingly, nearly every vacant downtown building is now filled or under contract! Not many downtowns can make such a claim!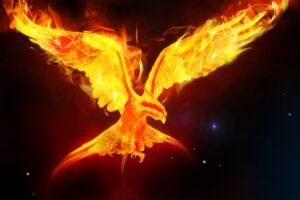 We have also witnessed many other recent major investments, including two local banks whose projects have invested a combined $15 million dollars in two beautiful, state of the art facilities.  A few more examples include major strides in the improvement of our rural broadband and internet services through the addition of nine new tower sites, The Mifflin County Academy of Science and Technology poised to begin an $8.7 million dollar project to assist preparing our future workforce, and renovations are underway in the former Kmart to increase our shopping opportunities. From new office space to restaurants, breweries, wineries, event venues, a gym, retail, housing, industry as well as educational opportunities and improvements, we have proven our unwavering perseverance over adversity.
This is all possible because of the brave individuals, businesses, industries, and organizations who believe in our Juniata River Valley! They are proving this by investing millions of dollars in our community.  To all of you, on behalf of myself and the Juniata River Valley Chamber of Commerce, I thank you!  You are the reason our community is emerging from the ashes with renewed strength and determination to rise higher and go farther than we ever imagined possible.
"Be like the Phoenix from the midst of your ashes get up and rise again." Timothy Pina
Rhonda S. Kelley, Executive Director, Juniata River Valley Chamber of Commerce