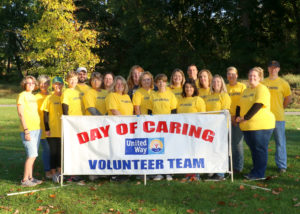 The Juniata River Valley Chamber of Commerce is proud to present the JRVCC Leadership Institute. We strongly believe that our future leaders need the opportunity to incorporate prior experiences with new found knowledge to equip them to empower and influence those around them. We believe that great leaders move and inspire, improving their workplaces and communities. Benefits of Leadership Training:
1. It's an investment In the future
2. Leaders are needed everywhere; in the workplace & in our community
3. Employee development leads to organizational growth
4. Training gives you a competitive advantage
5. Guarantees your company's future and sets the tone for innovation
6. Develops your staff to be high performers & loyal
For more info, see our Leadership Brochure.
Tuition
The cost is $750 per Chamber member participant and $850 for non-members. Applicants will be invoiced for tuition upon their acceptance into the program. Tuition may be paid by the individual, employer, or other agency. Tuition may be paid by check or credit card. All payments must be received before September 4, 2020. Class size is limited, so register early.
Program Features:
September 9, 2020, 8:30am -11:00am
Birch Hill Event Center
September Group Community Project
September 16, 2020
Closing Celebration
May 19, 2021, 6:00 -8:00pm
Lily Manor, Mifflin
APPLICATION PROCESS
To apply:
• Complete the application
• Sign the Code of Responsibility & Commitment Form
• Secure a letter of recommendation
Completed must be received in the Juniata River Valley Chamber office no later than July 3, 2020, with acceptance notification by July 17, 2020.
Applications must be typed and completed to be considered.
Your letter of recommendation should be emailed to the Chamber office
rhondam@juniatarivervalley.org
Please place JRVCC Leadership
Institute in the Subject Line.
To Register: Please fill out this form by clicking here.
REQUIREMENTS
The program runs from mid- September through mid -May. There will be a full-day session the 2nd Wednesday of the month from 8am -4pm.
Opening Reception is Sept.9, 2020, 8:30 -11:00am at the Birch Hill Event Center. Closing Celebration is May 19, 2021, 6-8pm at Lily Manor. Your own arrangements must be made for travel. To
graduate from the Institute, you may only miss 1 session, and have full participation in the team community project. Attendance reports will be sent to sponsors and participants. The JRVCC Leadership Institute Committee will select up to 25 participants based on the submitted applications & letters of recommendation.
No applicant will be discriminated against on the basis of race, color, religion, gender, age, ancestry, disability, marital status, or sexual orientation.